Levuka Homestay
Only four spacious air conditioned rooms, with polished floors, ceiling fan, ensuite bathroom, outside veranda and your own private entrance. Relax on the covered deck in the lower part of the house or enjoy the fresh air in the privacy of our garden. You are also most welcome to enjoy the view from the upper deck, or watch television or read a good book in the comfort of our lounge room. A full breakfast is provided as part of the tariff. Rates from F$ 165.00 . Phone (+679) 3440777
The Royal Hotel
Fiji's oldest Hotel being over 100 years old. Its old world charm (colonial style) is complimented with new, self contained, one bedroom air conditioned garden bungalows. Breakfast only, bar, snooker, evening movies, laundry service, kayaks, gym, large garden with swimming pool, complimentary Kava. rates: single rooms start F$ 20; double from F$ 38; garden bungalows from F$ 88. Phone (+679) 3440024
Ovalau Holiday Resort

the island's only self contained beach side resort. Located only three kilometres from Levuka Town, it offers self-contained bungalows, all with superb ocean views and only a stone's throw from a private beach.
Intimate with a casual dining room, bar and fresh-water pool, it is a perfect place to stay on Ovalau.
Evening Kava, volleyball, kayaking, hiking, snorkelling, round the island tours, waterfall tours, laundry service, free transfer to town, Meal packages are available. Bungalows start at F$ 77.00
Levuka Holiday Cottage
located 1.5 km north of Levuka at Oniviro. The Cottage is surrounded by a beautiful tropical garden, right next to the pacific ocean. Behind the Cottage stands Gun Rock Cliff, a landmark of Levuka's history. The bungalow has dining area, a fully equipped kitchen, toilet and shower. Its the perfect accommodation for a couple or a small family as a base to explore real live in Fiji Islands.
Rates is F$ 650 per month

Clara's Holiday Lodge
Clean, comfortable budget accommodation located in Levuka Town with only Beach Street between it and the South Pacific Ocean. Facilities are on a share basis.
Dormitory F$ 20, single room F$ 25, double room F$ 40. Including Breakfast, shared facilities.
Phone: (+679) 3440013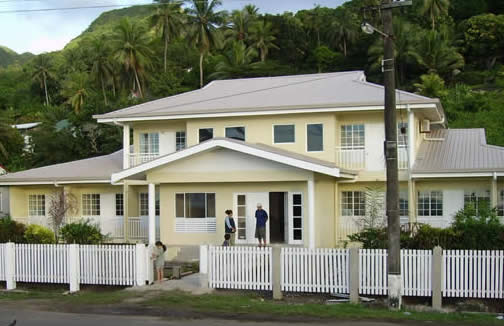 New Mavida Lodge
11 ensuite rooms, all air conditioned with tea and coffee making facilities and TV. Six with queen sized beds, 5 rooms with double beds. For budget travelers, our dormitory has a total of 8 single beds. The dining & living room is spacious and comfortable for guests to relax in, socialize, read or use the internet facilities provided. Double room F$ 80, dorm F$ 30. incl. breakfast.
Phone (+679) 344 0477
Silana Village
Silana Village offers traditional Fijian hospitality in modern comfortable bures. You become part of the village, sharing their meals and way of life. This daily life style consists of farming, fishing, maintenance of village buildings and the production of needed accessories such as fine mats, Tapa or bark cloth, fans etc. You may actively participate with your new Fijian family in any of these pastimes, or take a guided trek into the bush or along the coast, have a swim and snorkel or just relax and read a book.

Bobos Farm
is located on a riverbank amongst the rainforest in the Rukuruku Valley on Ovalau, Fiji Islands.
If you want to experience the real rural Fiji, fun adventures and warm welcoming Fijian hospitality Bobos Farm will introduce you to local people and culture
One Guesthouse which has 2 bedrooms with shower/bathroom, living room and kitchen. Ideal for families.


Nukulekaleka Cottage
Nukulekaleka Cottage Fiji, is a one bedroom rental on Ovalau Island (Central Fiji). The Cabin is located next to Wagadaci Village about 500 meters north of Levuka, the Old Capital of Fiji. The cabin has one bedroom with dining area, a small but fully equipped kitchen, toilet and shower.Its suitable for one person or a couple to experience real live in the Fiji Islands.
Rate Nukulekaleka Cottage: F$ 500 per month.
Phone (+679) 3440745 .
Kauwai Homstay
Kauwai lays nestled between the ocean and the forest on the South-West corner of Ovalau. At the heart of Kauwai are 2 old colonial cottages which have been transformed into a home for adventurers curious about Fijiís culture and lifestyle. If you're coming to Ovalau island and you're looking for an affordable, unplugged, alternative place to stay (that's at the edge of the grid) try here. For some of you, it will be your first taste of a raw Fijian Experience.​
Phone (+679) 3551 800 .


dive@owlfiji.com

Tel: (+679) 344 0166 or 344 0344
Ovalau Watersports Ltd., Box 149 Levuka, Ovalau, Fiji Islands

Home | Diving | Dive Sites | Activities | Accommodation | Location | Getting There | Prices | Booking