Fiji is a great place to learn to dive. The water is warm, the weather is good and the courses are normally held in small groups. The unique and beautiful underwater world of the Fiji Islands should not be missed.
You can get your scuba diving license almost anywhere in Fiji. Many resorts have a dive center with local or international PADI instructors who can teach you diving. PADI certificates are recognized worldwide and allow you to go diving anywhere in the world when traveling.
PADI Scuba Diver Course : 3 days
The Scuba Diver program is a pre-entry level certification that is perfect for vacationers or people who only plan to dive a couple of times a year. As a subprogram of the PADI Open Water Diver program, the PADI Scuba Diver rating allows you to get certified quickly and easily by minimizing time constraints.
Virtually anyone who is in good health, reasonably fit, and comfortable in the water can earn a Scuba Diver certification. If you are between 10 and 14 or have a child between these ages, there is a PADI Junior Scuba Diver program available. You earn this rating by completing pool dives, knowledge development sessions, and by making two open water (ocean or lake) dives. PADI programs are performance-based. You proceed as you demonstrate mastery of the course skills. This allows you to work at a pace that is comfortable for you.
PADI Open Water Course: 5 days
This is the complete diving course for beginners. It takes about five days to complete, you will receive a certificate that is valid worldwide to dive to a maximum depth of 18 m. In this course, you will learn the basics to dive safely under similar conditions in which your training took place.
In the first three days, you will learn the theoretical basics about diving physics, effects on the human body, diving equipment, and in the pool or shallow water you will learn the skills that are needed to use diving equipment. After a final exam, you will then dive in open water under the supervision of a dive instructor to a max depth limit of 18-m. You will practice what you have learned under the supervision and enjoy the underwater world in a safe and careful manner.
Advanced Open Water Course : 3 days
This course takes two to three days and includes five dives plus instructor and video teaching sessions. After the dives, you will be more experienced, feel more comfortable under the water and enjoy diving much more as you will have a greater knowledge of the underwater environment.
This certification includes five Adventure Dives, including the Deep Adventure Dive, the Underwater Navigator Adventure Dive and three of the following: Altitude Diver, Boat Diver, Drift Diver, Deep Diver, Dry Suit Diver, Dive Propulsion Vehicle, Multilevel Diver, Night Diver, Search and Recovery,
Underwater Naturalist, Underwater Videographer, Underwater Photographer, Underwater Navigator, AWARE Fish Identification, Wreck Diver.
Rescue Diver Course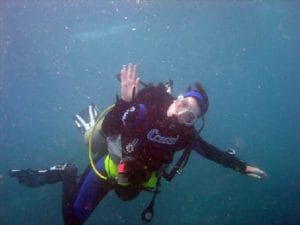 The PADI Rescue Diver course prepares you to deal with dive emergencies, minor and major, using a variety of techniques. Through knowledge development and rescue exercises, you learn what to look for and how to respond. During rescue scenarios, you put into practice your knowledge and skills.
Topics include:
Self-rescue
Recognizing and managing stress in other divers
Emergency management and equipment
Rescuing panicked divers
Rescuing unresponsive divers
Dive Master Course
Take the first step in your dive career and become a PADI Divemaster. Working closely with a PADI Instructor, you'll expand your dive knowledge and hone your skills as you become a dive professional. PADI Divemaster training develops your leadership abilities by training you to supervise dive activities and assist instructors with student divers.
What can PADI Divemasters do?
Work at local dive centers, on live-aboard dive boats, yachts and at exotic resort locations, Assist PADI Instructors with students Lead PADI Scuba Divers on guided dive tours, Teach and certify PADI Skin Divers, Teach PADI Discover Snorkeling programs, Conduct PADI Scuba Review programs for certified divers, Lead certified divers on Discover Local Diving experiences, Teach Emergency First Response programs after successful completion of an Emergency First Response Instructor course.
What will I do? Learn dive leadership through classroom and independent study sessions, Complete water skills and stamina exercises in confined and open water Training exercises to test organizational and problem-solving abilities, An internship or series of practical training exercises over a period of between two weeks and three months.
Start Your PADI Scuba Education Online
You can start with PADI's e-learning scuba programs right now, online from home, and complete the practical part of your course when at your vacation destination.
PADI eLearning lets you:
Learn by watching, listening, reading, and interacting with a dynamic instructional program.
Access the material for one year, plus gain unlimited access to an online version of the course manual.
Contact your local PADI Dive Center or Resort anytime you have a question about what you're learning.
Get in the water quickly – applying what you've learned – when you meet with your PADI Instructor.
More about Padi Diving courses on PADI Website